---
Conformal projections to Euclidean space of Blaine Lawson's ruled minimal surfaces in 3-dimensional spherical space realized with the real-time interactive CAVE animator ``illiSnail'' created by Glenn Chappell, Chris Hartman and George Francis of the NCSA 1994 illiView team.

http://www.ncsa.uiuc.edu/People/slevy/Snails.tiff
---
Minimax triversion of the sphere, by George Francis, John Sullivan, Chris Hartman, and Stuart Levy of the NCSA/UIUC, Rob Kusner of UMass, Ken Brakke of Susquehanna University.
A sphere can be turned inside out without tearing if it is allowed to pass through itself; the sphere eversion shown here was computed automatically by starting with the halfway model (where the orange and blue sheets pass through each other) and simplifying it by numerically minimizing a surface bending energy.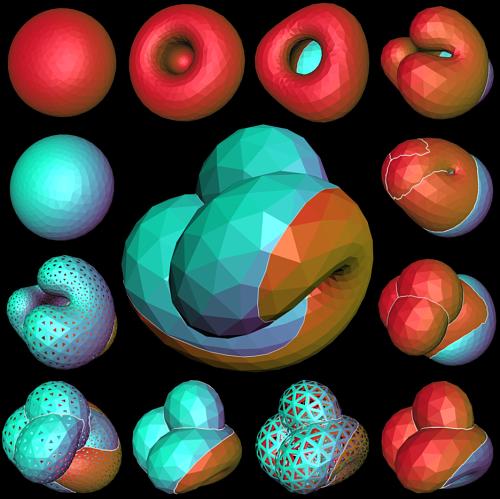 http://www.ncsa.uiuc.edu/People/slevy/Minimax-Eversion.tiff
---
[choose one of the three images below]
Trajectories in the May-Leonard dynamical system, a highly simplified model of populations of three competing species. It was generated by illiPhaser [http://www.ncsa.uiuc.edu/VR/cavernus/PHASER/Phaser.html], developed by Alex Bourd, George Francis, and Jonathan Manton of the illiView group at the NCSA, University of Illinois.
Note: the full-sized versions of the May-Leonard images below have been removed for lack of space -- if you need them, please write to slevy@ncsa.uiuc.edu.
---
Stuart Levy, slevy@geom.umn.edu or slevy@ncsa.uiuc.edu